Loss Circulation Material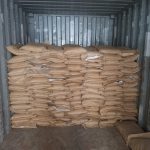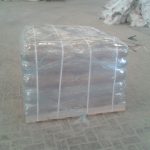 Grade              :  Fine/ Medium/ Coarse
HSN Code      :  47069100
CAS Number :  9004 – 34 – 6
Appearance   :  Brown Fine Fibers
Cellulose fibers are fibers made with ethers or esters of cellulose, which can be obtained from the bark, wood or leaves of plants, or from other plant-based material.
The main applications of cellulose fibers are in the oilfield Industry as chemical filters, textile industry and as fiber-reinforcement composites etc.
cellulose fibers in filtration applications can greatly improve filtration performance when used as a primary or remedial precoat in different ways like, Preventing fine particulate bleed-through, Precoating easily and rapidly and reducing soluble contamination, Improving the stability of the filter-aid cake to make it more resistant to pressure bumps and interruptions, Improving cake release and reducing cleaning requirements etc.
Packing Details :
12.5 kg in each HDPE Bag/ Brown Paper Bag with inner liner.
Available in White shrink wrap/ Yellow shrink wrap with pallet. 
14 MTs capacity in per container.
Plain bags and Printing on bags available.