Loss Circulation Material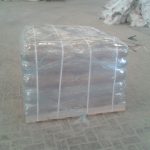 Grade              :  Fine/ Medium/ Coarse
HSN Code      :  08023100
CAS Number :  84012 – 43 – 1
Appearance   :  Brown Granular
Walnut shell has an extremely hard shell with characteristics that make it an ideal media in filtration operations. It offers excellent filtration solutions in oil fields for separating oil or solids from oilfield produced water.
Walnut shell blasting offers the aggressiveness required to remove hard paints and coating without damaging substrates. The process also enables selective coating removal, wherein the top coating can be removed without affecting the underlying coating.
Walnut shell filters are used for tertiary treatment following primary and secondary treatment which removes the bulk of the oil and suspended solids. Typically, effluent is reinjected for reuse or disposal or discharged to a surface body of water.
Packing Details :
25 kg in each HDPE Bag/ Brown Paper Bag with inner liner.
Available in White shrink wrap/ Yellow shrink wrap with pallet. 
28 MTs capacity in per container.
Plain bags and Printing on bags available.