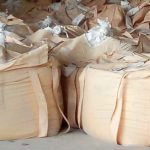 Grade              :  API Grade
HSN Code      :  25081090
CAS Number :  14808 – 60 – 7
Appearance   :  Tan Powder
We manufacturing Super quality Bentonite in API Grade Bentonites are availed in variety of applications. Use of Bentonite is as a mud constituent for oil and water well drilling. Its roles are mainly to seal the borehole walls, to remove drill cuttings and to lubricate the cutting head.
Bentonite deposits are normally exploited by quarrying. Extracted bentonite is distinctly solid,  the material is initially crushed and, if necessary, activated with the addition of soda ash (Na2CO3). Bentonite is subsequently dried to reach a moisture content of approximately 15%.
Bentonite in civil engineering applications is used traditionally as a thixotropic, support and lubricant agent in diaphragm walls and foundations, in tunneling, in horizontal directional drilling and pipe jacking.
Packing Details :
1 MT in White/ Brown Jumbo Bag with inner liner.
28 MTs capacity in per container.
Plain bags and Printing on bags available.