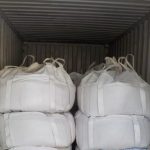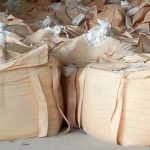 Grade : 4.10 SG / 4.20 SG
HSN Code      :  25111010
CAS Number :  7727 – 43 – 7
Appearance   :  Free Flow Powder
Barites powder that is extensively used in oil and gas exploration/ drilling industry.  As a well is drilled, the bit passes through various formations, each with different characteristics. The deeper the hole, the more barite is needed as a percentage of the total mud mix. An additional benefit of barite is that, it is non-magnetic and thus does not interfere with magnetic measurements taken in the borehole, either during logging-while-drilling or in separate drill hole logging.
Other uses are in added-value applications which include filler in pant and plastics, sound reduction in engine compartments, coat of automobile finishes for smoothness and corrosion resistance, friction products for automobiles and trucks, radiation-shielding cements, glass, ceramics, break lining companies and medical applications.
Packing Details :
1.5 MT in White/ Brown Jumbo Bag with inner liner.
27 MTs capacity in per container.
Plain bags and Printing on bags available.