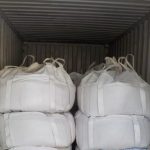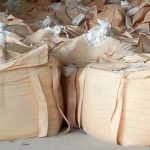 Grade              :  API Grade
HSN Code      :  28211010
CAS Number :  1309 – 37 – 1
Appearance   :  Dark Red/ Black/ Brown
Hematite is mined as an important ore mineral of iron. It is electrically conductive. It is not only harder than pure iron, but also much more brittle.
It is also available as a synthetic product. Hematite is a high-density weighting material. The hematite ore used as a  weighting agent in drilling fluids has a mica-like crystal structure ground to a particle size suitable for use in drilling fluids. It is used to obtain mud weights in excess of 20.0 Pounds per gallon (ppg) in water based drilling fluids, 19.0 ppg in oil based drilling fluids, or any time that exceptional control is required of solids percentage for theology control.
Higher density Hematite occupies less space than an equal mass of Barite. This allows more room of water, reducing the interaction between solids.
Packing Details :
1.5 MT in White/ Brown Jumbo Bag with 4 Loops.
27 MTs capacity in per container.
Plain bags and Printing on bags available.